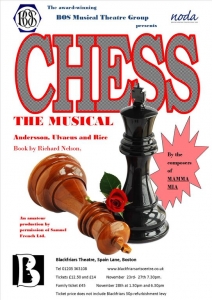 Wednesday 1st February
BOS Musical Theatre Group (Formerly Boston Operatic Society) has won regional and national awards for their poster for the musical Chess performed in 2015. Designed by member Stuart Bull the poster won ist place in the regional award from the National Operatic and Dramatic Association (NODA) as the BEST POSTER in the East Midlands in 2016, it was also submitted for the National prize, where it won 2nd place.
NODA Regional Councillor Peter Breach presented the silver plaque and certificate to Stuart Bull, along with BOS Chairman Rob Barclay and members of BOS at a recent rehearsal for their upcoming show – Into the Woods which is being staged at Blackfriars Theatre in April.
Chess also won the award for Best Musical in Area production, and was runner-up in the Regional (East Midlands) production awards, consolidating BOS's position as one of the most successful Musical theatre groups in this area. In the past three years, BOS have won awards for four productions (Anything Goes, Jesus Christ Superstar, Rapunzel and Chess). New members are always welcome and details can be found on their website, http://www.bosmusicaltheatregroup.org.uk/