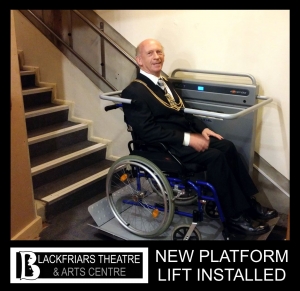 Wednesday 19th October
The Directors of Blackfriars Theatre and Arts Centre are delighted to announce another excellent upgrade. Last year saw the installation of new seats with more leg room to half the auditorium, this provided a huge boost in comfort for our audience. Having received appreciative comments, thoughts turned to the next project. Research began to find a better way to access the Auditorium for both wheelchair users and those with walking difficulties. After months of planning and preparation a Platform Lift was installed in time for our 50th Anniversary Gala Evening.
It was a delight to see The Mayor of Boston, who is a great supporter of the Theatre, take the Lift on its maiden voyage.